UDL hardware engineering is a small company, all the work is either done by the owner, or a team of hand-picked engineers that are trusted to keep the best quality of work.
The company's clientele is comprised of large companies such  as ELBIT Systems, small startups such as Life-Beam and also private individuals seeking to realize their dreams.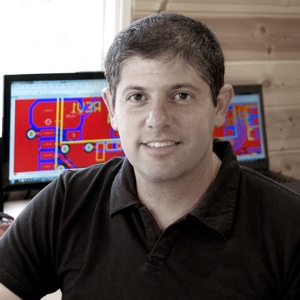 Founder of UDL
Hardware Engineering
I started working in the Hi-tech industry nearly 20 years ago, and have been designing hardware for 14 years. During my time in international companies such as RADCOM Ltd and Fourier EDU I learned and mastered the skills to design a product.
In 2015 I decided to take my professional career to the next level, and started my own development company.
Personally, I am happily married with three children (and a dog). I spend most of my free time around my house where I also work, grooming my garden whenever I get the chance.
Udi developed a hardware project for us that started from definitions and ended with a working prototype successfully. The development was done in a most efficient manner, meeting our strict professional standards. I'm sure we'll work with Udi again
Product manager and hardware engineer at Elbit Systems
Udi is a consummate professional, and very easy to work with. I hope to have many other projects to work on with him.
Founding Partner at Next Thing Co
Udi did a great job with my project! It started as a simple review, but I realized Udi is very skilled and detail-oriented so decided to ask him to re-design my board from the ground up. I'd definitely work with him again!
We have been using Udi's services for over a year, and we find him to be very reliable, trustworthy and professional. Over the time Udi helped us a lot with the development of our product, and also supported our hardware manufacturing efforts.
Chief Engineer at LifeBEAM Technologies
Independent and comprehensive work
Our work is managed independently, once the task is defined and the schedules are set, the task will be done! There is no need to worry whether or not it will be done and without the need to overload the system with unnecessary management.

Flexible place of work
Some clients prefer work in their own facilities, while some do not have the extra space, our work is flexible and accept both options according to the client's wishes.

Updates and responsibility
Since it is clearly very frustrating to have no response from a person doing the job for you, we take care to update the client constantly, and make sure that every question or request is addressed as soon as possible.

International service
With today's communication technology there is no problem to work globally, we serve clients from around the world, and gap any inconveniences arising from geographic distance using the many communication channels available today.
PRICE
OFFERS
For each job we make sure to provide a clear and detailed price offer, making sure our prices are fair and competitive. This way the client always knows in advance when/how much and what he gets at each step.
MILESTONE
PAYMENTS
Our work is done according to predefined milestones, allowing the client to have control over the process throughout the way.
HOURLY
EMPLOYMENT
Some clients require work "by the hour", we offer hourly work option, providing accurate work log periodically for inspection and approval.